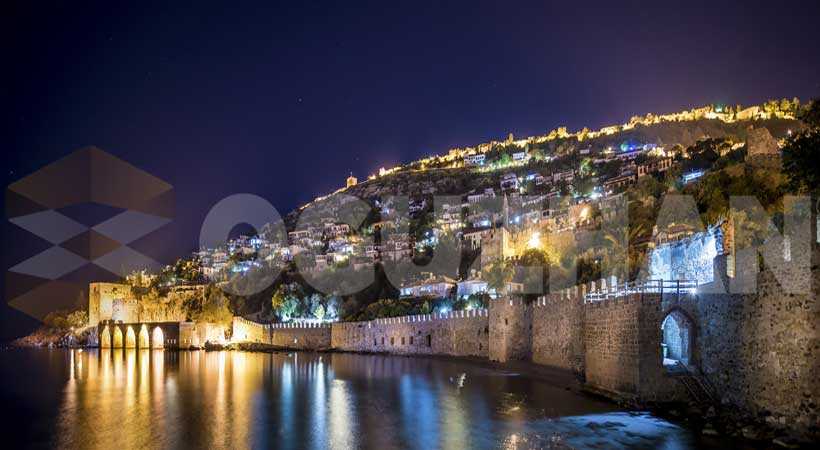 Alanya is one of the cities with many tourist places.
Alanya is a true holiday paradise with its unique nature, long summer season, historical sights and a fun life. In addition to all these attractive features, this is one of the fastest growing tourist destinations on the Mediterranean coast with comfortable hotels and a convenient location.
Living in Alanya is easy and simple. The summer lasts long and the winter is warm. Many cafés set a tables outside, so you can dine in the fresh air, and in the evening take a quiet walk along the beach. In the restaurant menu you can always find fresh fish and seafood.
Fresh fruits, vegetables and greens are always available in the markets of Alanya.
Alanya combines modern and traditional culture, which creates a peaceful atmosphere for the local population and tourists.
Tourist places of Alanya
Alanya has a fairly large number of tourist spots.
Alanya Fortress and Red Tower
Alanya castle, built by Sultan Alaadin Keykubat in the 1200s, is the hallmark of the city.
The castle extends to the octagonal 33 meter high tower, another famous symbol of Alanya. From the top of the Red Tower offers a magnificent view of Alanya.
Cleopatra Beach
Cleopatra Beach starts from the west of the historic peninsula of Alanya and ends with Damlatas Beach. Cleopatra beach with a pure sea and a golden beach has a blue flag, the beach is very clean, the entrance to the sea is smooth, the maximum depth is up to 10 meters. Millions of people visit Alanya Cleopatra Beach every year.
Dim Cave and Dim River
One of the places that visitors to Alanya should definitely visit is the Dim Cave. There are 4 different rooms in the cave. Each hall consists of stalactites and stalagmites. In some places of the cave there are small accumulations of water.
The Dim River is a great alternative for those who are tired of the sultry heat. There are many restaurants, picnic areas, small cafés and other amenities on the banks of the Dim River.
Damlatash cave and Damlatash beach
Damlatash cave, accidentally discovered in 1948, has healing qualities. Inside the cave there are stalactites and stalagmites that have a very impressive appearance. After visiting the cave, you can immediately go to the wonderful sandy beach of Damlatas. Damlatas beach has a blue flag and one of the best options for those who want to enjoy the sea and the sun.
Alanya is one of the most attractive cities for living and investment. You can contact us if you want to buy an apartment in Alanya. We continue to delight our customers with apartments and housing projects. Oguzhan Construction in Alanya strives to improve the standard of living of each client by offering comfortable apartments in quality, well-equipped residential complexes.