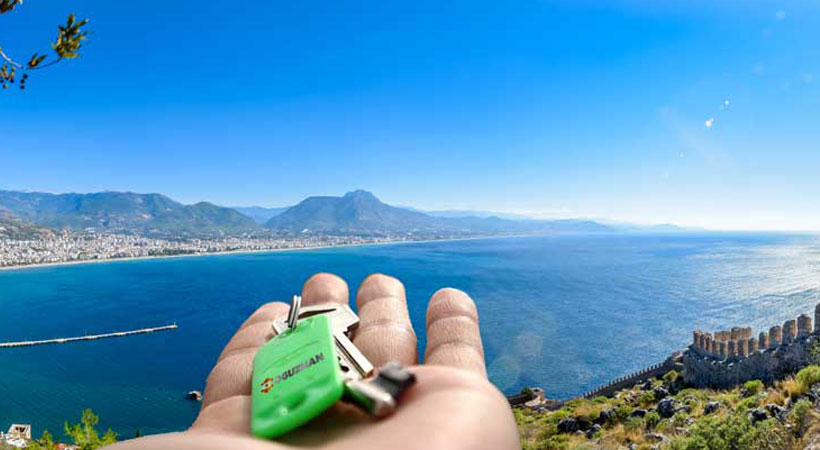 Alanya, located on the Mediterranean coast of the province of Antalya, continues to attract both local and foreign tourists with its unique beauties. Alanya has one of the best locations in the world due to the length of the coastline. Nearly 1 million tourists visit Alanya every year.
There are countless reasons to buy a home in Alanya.
In Alanya, where speak almost all Asian and European languages, there are direct flights to 400 points and 22 direct flights to the capitals of various countries.
Students from 38 different countries work in Alanya and 61,116 students have work permits in Turkey.
Recently, it has become attractive for tourists to receive a Turkish passport under the simplified scheme, which occupies 55th place in terms of prestige among all passports in the world. In addition, having a Turkish passport, you can freely visit 111 countries.
In Alanya, where on average 300 sunny days a year, various concerts, festivals, sports tournaments, water sports competitions and much more are held annually.
The natural beauties of the city, unique sights, historical riches, numerous beaches, make life in Alanya very peaceful!
Alanya with its beautiful beaches manages to be one of the most preferred holiday resorts.
Alanya famous for its 70 km long coastline and blue flag beaches with its deep blue sea and one of the most popular beaches Cleopatra Beach. Cleopatra beach is also marked with a blue flag  (Blue flag is an international environmental award given to beaches and marinas that meet certain criteria such as cleanliness and safety).
Cleopatra Beach located at the foot of Alanya Castle and has a length of 2 km. The sand of the beach of Cleopatra Beach is thin and golden. It has clean and pure water. One of the beaches that most attracts local and foreign tourists, is quite crowded, especially in the summer.
Cleopatra beach in Alanya manages to be one of the most popular place. There is no doubt that you will enjoy watching the evening sun set here too.
Benefits of Buying a Property in Alanya
When buying property in Alanya in Turkey;
– You will not waste time being in traffic jams.
– You will live without stress in the neighborhood with positive-minded people who respect each other.
– You will enjoy life with a lot of sports and social events.
– Sunny weather will make you feel like on vacation every day.
Many people have good reasons to live in Alanya and buy property in Alanya.
First of all, Turkey, taking the 18th place in the world in the economic development of the country with its growing economy and mega-projects in real estate, with industry dynamics and creating new opportunities for investors, creates all the conditions for further economic growth and rising of real estate prices.
If you want to live in a beautiful corner of the world, in a comfortable apartment,  it worth to check the real estate projects in Alanya from the developer Oguzhan Construction.
With our 30 years of experience in construction, with a portfolio of 6,000 happy customers from more than 45 different countries, we offer high-quality, modern and unique residential projects.
You can contact us with any question that interests you, for example, real estate prices in Alanya or investment opportunities in Alanya. Do not put off quality life in high-quality apartments for later!