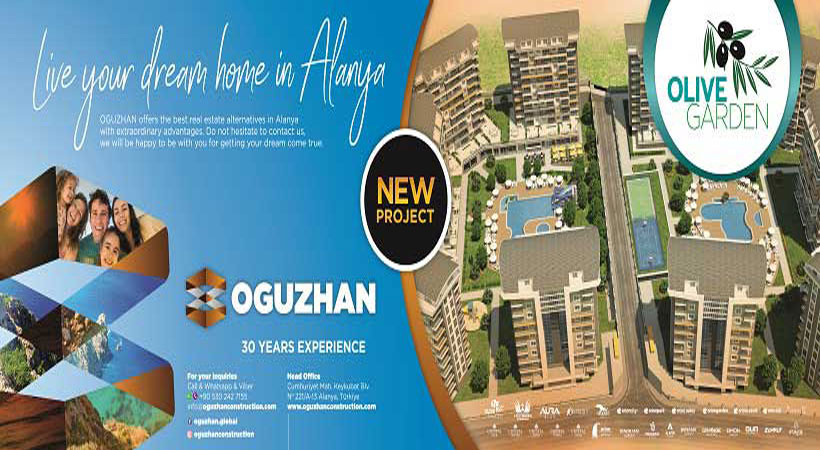 Would you like to spend every moment of your life on vacation? If so, let us introduce Olive Garden, one of Alanya's most exclusive housing projects.
Oguzhan Construction, with new housing projects in Alanya, continues to offer quality life in quality living spaces. Standards for living in a 5-star hotel can be turned into your daily standard of life.
Olive Garden is one of the most magnificent, ambitious, luxurious, modern and comfortable designed projects in Alanya. Who can say 'No' to a peaceful atmosphere and life intertwined with nature?
Residential complex Olive Garden is a two-phase Project and consists of 10 blocks. The first phase of the Project was completed, and we began the second phase in 2020. Our Project consists of 521 apartments: studios, 1+1, 2+1 and duplexes. The design of the apartments was implemented taking into account the smallest details.
Each of our apartments has been designed so that you can get the most of natural light from large windows. Thus, the feeling of a large, spacious, bright, room was provided.
There is no doubt that these apartments will appeal to those who are tired of Standard flats and who want to live in luxury apartments in Alanya.
Our apartments have been designed so that you can enjoy a comfortable and luxurious life with all amenities. Our kitchens are equipped with the most modern, most environmentally friendly cabinets and countertops. Our bath rooms are tiled with modern tiles. Moreover, you can contactvia video intercom with 7/24 support.
Luxurious life in Alanya is waiting for you!
The harmonious atmosphere of our apartments will make you feel peaceful. You can enjoy life on the magnificent open balcony with seating areas, the Mediterranean coast on one side and the peaks of the Taurus Mountains on the other. You can easily reach the beach from our apartments, which are within walking distance of the sea.
At the Olive Garden Restaurant and Bar, you can always spend time with a romantic coffee or a glass of wine. You can watch your children play on the playground at the same time, taking time for yourselves. And not only this!Together with your family, relatives and friends you can spend quality time, relax and relieve fatigue, for this there are an indoor and outdoor swimming pool, sun terraces, bowling, cinema, fitness center, spa and wellness center.Those who like to spend time in the fresh air can also go for a walk in the picturesque surroundings.
There is everything you need inside and near the residential complex for a quality and quiet life. Within walking distance are the sea, the center of the district, a street market, shops, entertainment centers. Our complex, where you can enjoy the style of your life throughout the year, is a great option for investment.
Olive Garden is located in the most ecologically clean area of the city. Avsallar is famous for its sandy beach and warm sea until the November.
As an Alanya construction company, Oguzhan Construction, we strive to ensure that our customers receive the best quality, luxurious and comfortable living spaces. We would like you to become the happy owner of a cozy apartment from OGUZHAN. The construction of the second phase of the complex began on 01/12/2019 and is planed for completion in 2021.
Alanya Olive Garden Features:
2 outdoorpools,
Indoorpool,
Tenniscourt, volleyballandbasketballcourt.
Football field,
Children'splaygrounds,
Gazebos,
Walkingpaths,
Cafeteriaandbarbecuearea,
Turkishbath, sauna, fitnesscenter, hairdresser
Market
7/24 securityandgardener
Generator,
Satellite TV,
High-speedelevators,
Doubleglazedwindows,
Spotlights in thelivingroomand in thekitchen,
Granite countertops,
Airconditioning in everyroom,
Waterslides,
Parking,
Tabletennis,
Billiards,
Bowling,
Cafeandrestaurant.
After completing the purchase process, we continue to help our customers and provide after-sales service. We do not leave our clients  face to face with the problems; we accompany during the process of getting the title deed, the technical passport for the apartment, the water and electricity meters .